How To Order
1. Choose your favorite shoes, check the correct shoe size, and click Buy Now
2. Fill in the delivery information, please fill in the correct email, phone number and address. (Very important)
3. Select the payment method you want and follow the prompts to pay. If you have a discount code, remember to use it before paying.
Complete the above, Please provide the following information:
1)Screenshot of payment
2)Order number
4. jdfoot will confirm the order information with you, such as size, delivery address
5. QC pictures are free to send via WhatsAPP/Instagram/Email. (We need 1-3 working days for QC picture shooting)
6. The sneakers will be shipped after you confirm the size/shipping information/QC picture.
7. We will provide tracking number. (There is sometimes a delay in tracking the package information, please be patient.) Delivery time: usually 8-20 days
You can contact jdfoot customer service or check the tracking status on the website.
Check FAQ page and PAYMENT & SHIPPING page for more useful info before purchase.
1. Open www.jdfoot.co There is a small icon in the upper right corner of the website. If you are already a user of our website, you can directly click Login to log in. If you are not a user of our website, you can click Register to register, and you will get a registered discount code. (Register account process).
2.After logging in, come to the product page you want to buy. Choose your size and the quantity you need to buy on the product page, click Buy Now after the selection is complete.
3. After clicking Buy Now, you will be redirected to this page and fill in your relevant information. After filling in the information, click Continue Shipping.
4. After clicking Continue to shipping, you will be redirected to the Payment page. If there is a discount code, you can fill in your discount code on the right to get the discount. Leave your contact information in the input box to facilitate order communication between us. Please confirm that it is correct and click continue to pay.
5. We provide payment methods: payment by credit/ debit /master/visa card, PayPal and Alipay, bank transfer. For your choice. If your first attempt fails, you can pay with the next payment method. Please rest assured that our online payment channels are secure.
①Paypal: If you want to pay by paypal, u can send me your PayPal email and I will send you the invoice.
②if you need to pay for card , Note:All payment via VISA will need 3D verification , please fill in verification Code according to the system prompt,all message me if u can not understand.
③If you need to pay by bank transfer, please contact customer service.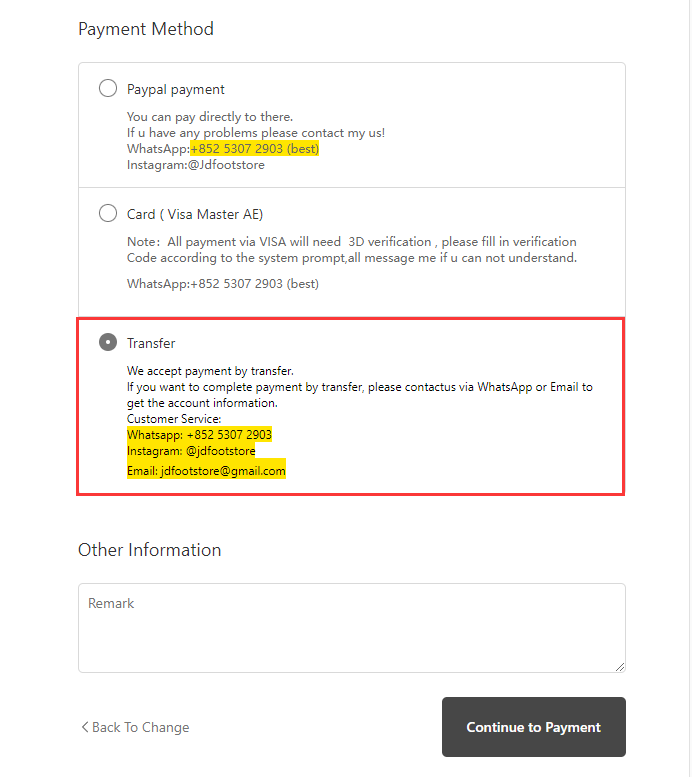 Anyway, if you have other questions find us
Customer Service:
Whatsapp: +44 7927 523126 https://api.whatsapp.com/send?phone=447927523126
Instagram: @jdfootstore https://www.instagram.com/jdfootstore/
Email:jdfootstore@gmail.com
Contact Us

WhatsApp : +44 7927 523126 (Best)

Instargam: @jdfootstore

Facebook Messenger : m.me/103175978679423

Mail : jdfootstore@gmail.com
Join our community
Subscribe To Our Newsletter